RECIPE TO CURE VARICOCELE NATURALY
Ingredients
quad -cissus
-aframonum melegueta
-Albizia lebeck
-acridocarpus smeathmani
Varicocele: what consequences for fertility?
A man with a varicocele may well not have any fertility problems, but in some people, this venous pathology could have an impact on fertility. The figures also point in this direction: 40% of subfertile men have a varicocele, against only 22% in the general population. However, the links between varicocele and subfertility are not obvious.
" Varicocele is a very common problem for which we do not know very well the consequences on fertility, or the mechanisms involved. There is no link of certainty, only a reasonable doubt ». Varicocele could affect spermatogenesis (the production of sperm) by different mechanisms, all of which are still unknown.
Several hypotheses have been put forward, starting with that of thermoregulation: varicocele would cause the testicle to warm up, which could alter spermatogenesis. Another hypothesis: hormone secretions, antibodies. " However, no mechanism has been clearly demonstrated physiologically, " says the specialist.
Causes and risk factors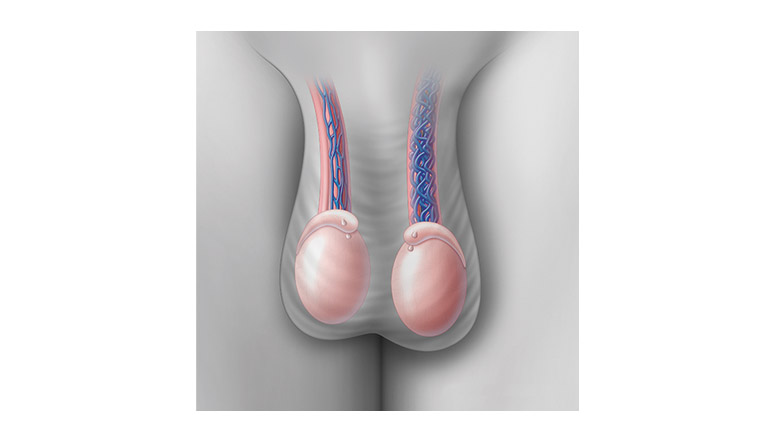 There are probably several reasons why the veins in the scrotum dilate, for example anatomical: for example, blood flows more slowly when the testicular vein from the pelvis joins the renal vein at almost a right angle. This can cause blood to flow back up to the scrotum and create a varicocele. If the angle of confluence is unfavorable, it is usually on the left side - this is why a varicocele is more common on the left. Other possible causes of a varicocele are a congenital weakness of the vascular wall and - like other varicose veins in the body - weakened venous valves.
A tumor in the pelvis or abdomen is rarely the cause: it can press on the veins and disrupt blood flow. If this leads to congestion of the testis, it is called a "symptomatic" varicocele to differentiate it from a "normal" varicocele.
Varicocele frequency
Varicoceles are common, especially in boys and men between the ages of 15 and 25. Experts estimate that 5 to 15% of all men have a varicocele. In about 90% of them, the varicocele is located in the left half of the scrotum.
Varicocele consequences
It is believed that a ruptured varicose vein in the scrotum can reduce fertility. Varicoceles are more common in men with impaired fertility. It is estimated that about 25 to 37% of all men with reduced sperm quality have a varicocele. However, this does not always affect fertility: many men are normally fertile despite having a varicocele.
Varicocele diagnostic
A doctor can see or smell a larger varicocele with the naked eye. Sometimes you have to press on the stomach during the exam to make the varicose vein fill with blood and become palpable.
Smaller varicoceles can only be recognized by an ultrasound examination ( ultrasound ).